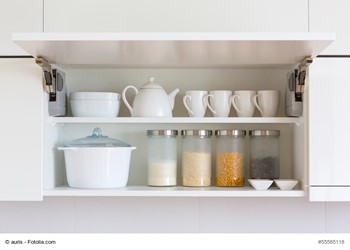 Keeping cabinets organized isn't always the easiest feat. Afterall, while cabinetry is often custom built to fit the room it's rarely custom-built to fit the items they're designed to store. And your family doesn't help, coming in like a tornado afterschool rampaging your cupboards for snacks and drinks. Here's how to keep cabinets organized in a way even kids can help keep maintained.
Create bespoke organization with stacking shelves designed to add more space between cabinet shelving. This essentially allows you to at least double your storage space, if not triple it depending on how tall your cabinets are and the height of your stacking shelves. Triple shelves are especially helpful in keeping plates and bowls in their own areas without creating one big pile of them. Doubles keep mugs and glasses easily within reach without crowding each other out.
Keep like items together in easy to grab bins. Think categories like lunches, snacks, breakfast, dinner, baking. This keeps pantry items neat and organized so kids aren't wading through bags of chips to get to gummy snacks (and making more chaos). Clear containers and labels help everyone upkeep your tidy system. It also helps them find what they are looking for without you.
Bins can also be helpful if you meal plan. Pick up baskets for each day of the week and put each meal's ingredients in its designated basket along with the recipe. This makes for faster meal prep and more coveted downtime.
Homeowners often tuck appliances away in hard to reach spots since they aren't often used. However, this also makes them less likely to be used them because let's be honest, you'll dread pulling them out. Create a solution that allows everything to be easily accessed at all times. This could be by putting them on display to pull double-duty as decor or choosing stacking shelves that work with the height of your appliances.
Installing slide out drawers between shelves allows you to take advantage of the depth of your cabinets without the need to blindly reach behind items hoping you'll grab the right item. Alternatively, a lazy susan or two will help you achieve the same outcome without installation. If you take this route carry over the like-items with the like-items rule here so you know which is holding the Italian spices and which the vanilla.
Creating organized cabinets doesn't have to be expensive or hard. And it certainly doesn't have to require gutting the kitchen to completely redesign them. A trip to the container store and a trusty label maker should set you right. With the right solutions, you might even be able to get your family to them organized as well. Best of luck!