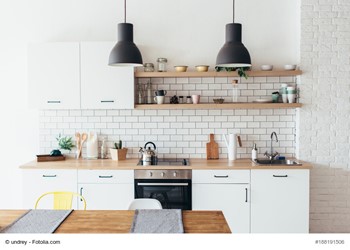 Not all upscale upgrades have to break the bank. Often times small upscale upgrades can fit in most people's budgets. However, because it is associated with a high end and expensive home they assume it couldn't' possibly work within the average wallet. Today we'll focus on the details that are small changes but make a drastic difference.
To create a sleek, clutter-free workspace install a built-in soap dispenser. Say goodbye to unsightly plastic bottles with their gunked up tops. Built-in soap dispensers come in many finishes and styles you are sure to find one that matches your existing decor. Hide the neon green soap that clashes with your decor without giving it up altogether.
Peel and stick tile is a great option for two camps. The first is those looking for a quick and easy solution to add color and visual interest. The second is those who want a temporary solution they can easily swap out down the line. You can finally try out the subway tile look without the commitment to, or work of, the trend.
Bring in a fresh look to your kitchen by installing new faucets. Swap out your existing finishes for something updated and new. Alternatively, you can update your faucet with a new updated style. High arc faucets with a pull-down sprayer are a popular option at the moment. Or make a chic statement with a stylish 2 handle bridge faucet.
If your walls and cabinetry are feeling flat and boring adding millwork will make your kitchen feel one-of-a-kind with some old-school class. Measure out the perimeter of your walls, go out your favorite style of molding and get creative. Install millwork along where the walls meet the ceiling, where the walls meet the floor or even along the middle to create a chair rail.
Pick out a bright, new color to add to your kitchen and pick up a couple of cans of paint for a weekend project. Add a pop of color to white walls or if you have a colorful kitchen paint the walls white. Reach for a choice that contrasts with your current decor for the biggest impact. Neutrals make a room feel high end while bold colors can make a stylish statement.
New hardware can update cabinets without tearing them out to start anew. Depending on your flavor of luxury look for either more detailed options or those that are starkly minimalist. Bar handles are very on trend and perfectly encapsulate the minimalist look. For a more classy, detailed option look through Antique shops or on Etsy for vintage sets. And while nothing beats, the real thing there are many vintage-inspired options for those who don't love the thrill of an antique hunt.